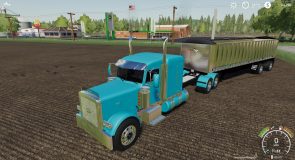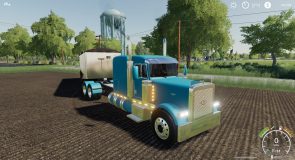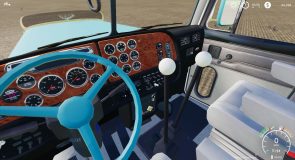 Peterbilt 379 v2.5 for FS19
Update- 2.5
* Added front hood peterbilt ornament
* Added New fuel tanks
* Added 379 Lights (Front blinkers will be in next update)
* Added bug deflector
* Added 379 Grill
* Added New bumper
* Fixed fuel tank holders
* Fixed Interior colors
* Fixed windshield allignment
* Fixed Mirror views
* Removed 389 headlights
* Removed peterbilt wing decals
Next update plans
*Add cab lights
*Add customizable options
*Add front blinkers
*Add Peterbilt steering wheel
*Add windshield wipers
*Fix gas gauge
*Fix the errors in the log
– and whatever else comes up.
The trailer will be released shortly, I ran into one error and I'm looking to resolve this with some help from another modder. Thank you all for the support & understanding! I'm trying my best to get things updated and work on other trucks that I've previewed to you guys. It's a lot of time and work. Anything you think i should add or remove leave a comment as i read it all.
Discord: TheFallen
Youtube: The Fallen
Steam: TheFallen