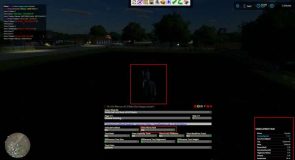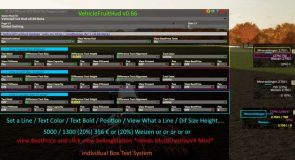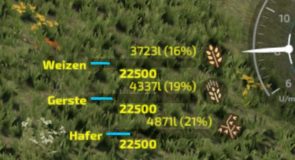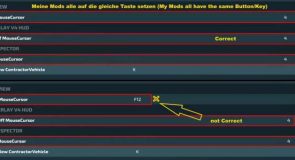 LS 22 VehicleFruit Hud v0.66Beta
This mod extends/modifies LS22's own VehicleFruit Hud with the following additional information.
0.66
new Individual Box System / edit pro Line otimal Values + own separator (bestPrice *needs MultiOverlayV4 Mod*)
update new Gui Menue Version –> optional Player Frozen On/Off *Default On* (own GUI Menue Setting ! NOT VF Setting!) (Global for all my Mods)
update new HL Script Version
fix capacity 567.xxxxx —> 567
0.65
fix/New Widescreen Gui Menue – set optional correction Value (modsSettings/hlGuiMenue.xml …iconWidescreenFix) default 0 *for 34 Zoll set 0.300 and testing or…*
0.64
intern
Fill/Fruit Name+TextColor On/Off, Capacity On/Off, BestPrice On/Off, Horse Hud On/Off
*MultiOverlayV4 Hud Ready*here
Features:
InGame Settings Menu. Alles Optional Einstellbar. Join Vehicle mit Click auf ein Fahrzeug in der Anzeige wenn du die Maus aktiverst hast, etc.
View LS 22 KeySettings für MouseCursor On/Off (Default *F12* für alle meine Mods) hier
BugList for Current Version: Fix Check Not Reproducible Info
Nothing more, nothing less
In multiplayer and single-player play.