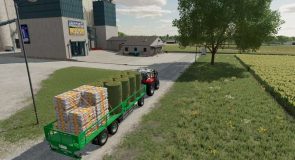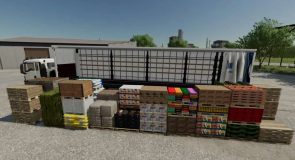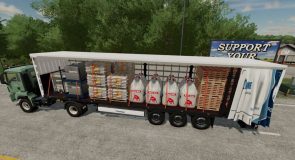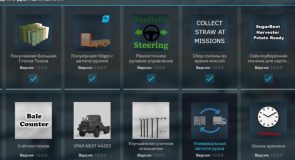 LS 22 Universal Autoload V1.0.1.0
Version 1.0.1.0 for Farming Simulator 2022 (v1.4.0.0):
Fixed problem with loading the latest game patch v1.4.0.0;
Also includes some pending updates related to trailer, pallet and bale configuration.
Autoloader for flatbed trailers and semitrailer KRONE Trailer Profi Liner. This will automatically change base game trailers and will apply to all new or existing trailers on your farm. Please see the README file for instructions on adding your own trailers or pallets.
Features:
– Loads any compatible type of pallets/containers/bales (see list below);
– Installed automatically on any compatible trailers (see list below);
– Loading and unloading of the selected type of cargo or container / bale;
– It is also possible to limit loading to only full pallets;
– Select "ALL" to load mixed types sequentially;
– Mixed pallets are loaded in size order for best packing efficiency;
– Can interact with trailers when the player is on foot (even if not attached to a vehicle)
Special features for KRONE Trailer Profi Liner
– Loading/unloading is only available from the side where the curtain is open;
– Back loading directly from a fork loader;
– The tailgate and curtain can be opened and closed by the player on foot.
Customizable for the following types of containers:
– Large bags;
– Pallets with MKR;
– Pallets;
– Pallets for liquid IBC;
– Square bales;
– Potato crates (requires mod: Seed Potato Pack).
Configured for the following trailers:
– Brantner DD 24073/2 XXL (bale trailer)
– Bremer Transportwagen TP 500 S
– BÖCKMANN MH-AL 4320/35
– Demco Steel Drop Deck
– Farmtech DPW 1800 (standard)
– Fliegl DTS 5.9
– KRONE Trailer Profi Liner
– Kröger PWO 24 (standard)
– LODE KING Renown Drop Deck
– Welger DK 115 (bale trailer)