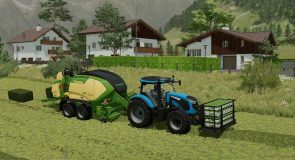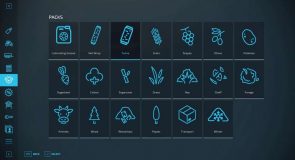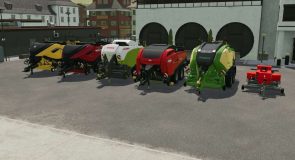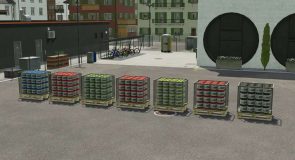 LS 22 Twine Addon v3.1.0.0
This package add the management of the twine for square balers, the twine is used every time the bale increase the fill level. The baler for square bale can be filled with the twine, using the pallet with 48 rolls of twine.
Changelog 3.1.0.0
New additions
Added the square bales with different colors same of the list of the twine roll colors
Every bales are create with the same color of the twine refilled in to the baler
Added the configuration for add or remove the managment of the twine for every square balers
Added the management for storage roll of the twine in to the baler for baler with the fill unit configuration
Added new twine color for brand: Fendt and John Deere
Added new balers: Fendt and Massey Ferguson
Added configuration for transport: pallet box for transport with pallet fork or cage box with three point attachment is also possibile transport with the front hydraulic joint of the tractor
Added configuration for lenght of the single piece: 1.000 m, 1.500 m, 2.000 m, 2.500 m
Added buyable bales for all new type of colors and sizes
Bugfixes & Changes
New model of twine rolls
New lenght and price for the roll of twine
The baler adapts capacity of twine based on the length of the twine roll being loaded
New price for the roll of twine
Increased and improved the compatibility of the mod
The pallet is present in the pallets category of the store. Every roll is lenght of 1.000 to 2.500 meters and every bale is wrapped one times by default with six twine.
This package includes:
Added the twine for square balers
Added a new HUD that show the twine fill level
Added a new pallet with rolls of twine for refilling your square baler
Added pallets with rolls of twine with different brands design
Added all default square balers of the game edited for working with twine
Added new store packs: "Twine" here you can find all mods that working with twine
The twine used is calculated based on the size of each bale
The bales are created with the same color as the twine loaded on the baler
Pallet with rolls of twine:
Brands: Case IH, Claas, Fendt, John Deere, Krone, Kuhn, Massey Ferguson, New Holland and Black
48 rolls of twine
1.000 to 2.500 meters of twine for every roll
Price: 250 to 625 $
WARNINGS:
Always check that you have twine in the square baler before using it
The square baler doesn't work if the twine is missing
This mod is compatible with mod FS22_MaizePlus only if you use also the mod FS22_twine_MaizePlus_addon
KNOWN ISSUES:
not compatible with mod: FS22_MaizePlus