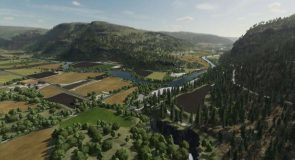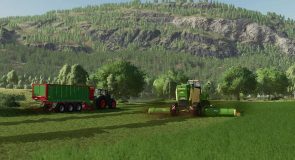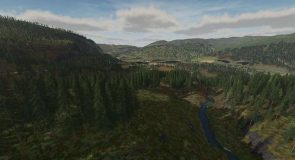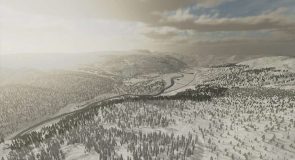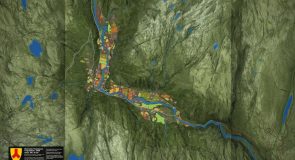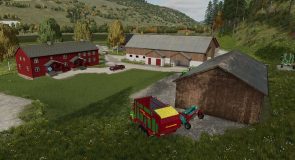 LS 22 Rennebu Map v1.0.0.1
The lush valley of Rennebu is inviting and encourage all sorts of work! Arable land, animal husbandry and forestry.
Changelog 1.0.0.1:
The following changes are safe for existing savegames:
– Adjusted food priority and values for cows. TMR is lower prio, silage, hay, grass and chaff is highest prio.
– Disabled maize, cotton, soy beans and sugarcane from being produced and sold
– Fixed fence placement at the church
– Updated trees from Holmåkra. This should not require a new savegame.
– Adjusted tipCol. You should now be able to use bunker silos and tip stones among other things in more places.
– Fixed the reports about trees in fields and floating in the air
– Fixed various hidden objects causing collisions in fields and roads
– Adjusted bird sound intervals
The following changes require a new savegame to be seen. It's not critical, mostly a visual update.
– Various Terrain adjustments and fixes
– Various ground texture adjustments
– Various foliage fixes
– Added access road to field 84
The map is based on a small part of the real world location Rennebu in Norway. The farms and farm buildings are real and placed at their real location.
The playable area is 8×8 KM. All production points and sell points are at their real world location, with only a couple changes for better gameplay.
– The animal dealer is non-existant in real life but made sense to make use of this building, as it is located at a central spot on the map.
– The bridge close to the animal dealer is about twice as wide than the real bridge, to make it possible to cross with larger and wider equipment.
– The bakery is not a bakery per se. It has a stone oven which is for rent by the community, especially busy before holidays.
Most of the buildings are placeables and with color selection, which will let you mix and match as you build your own farm on an empty lot.
This is the first version of the map, with enough to get started and enjoy the scenery. In future updates there will be new buildings.
On the map you will find:
– 143 marked fields
– 28 Forestry sites
– The river flowing through the valley can be used to refill water
– No collectibles (yet)
Productions available:
– Sawmill
– Carpenter
– Grain Mill
– Bakery
Planned productions in the future:
– Dairy
– Spinnery
– Tailor Shop
The rest of the production types are not added to the map by default because there's no natural location for them as they do not exist in real life.
The map is your sandbox, and you can buy your own production site if you want to grow other crops than what is found in the area.
Selling stations:
– Animal Dealer
– Grocery Store
– Grain Mill
– Sawmill
– Carpenter
The seasonal growth plan has been adjusted to closer follow the region in real life.
The map requires the mod "Buildings of Norway".
Recommended mods:
– More Animal Husbandries Possible
– MoreTrees
– Paint And Terraform Anywhere
For a more Norwegian experience, have a look for the Norwegian brands
– Kverneland
– Orkel
– Reime
– Gjerstad