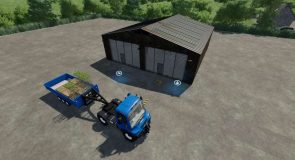 LS 22 Pallet Storage Warehouse v1.1.0.0
You can store and retrieve all types of pelleted items in this pallet storage warehouse.
V1.1.0.0
Now uses the in-game scripts which are much better, and has a much improved GUI.
If your mod map_filltypes.xml contains additional pallet types, it should work with them too.
Remodeled in Blender, so it has doors at the back as well.
Minor visuals added.
Clear areas and level areas redefined.