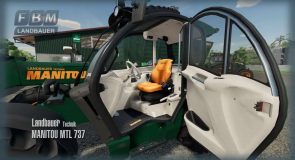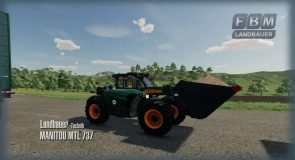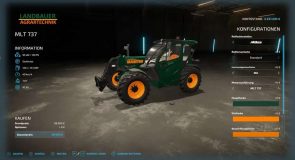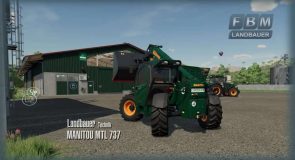 LS 22 MTL 737 LE v1.2.0.0
The Landbauer MTL737 is a conversion of the Manitou model.
Changelog 1.2.0.0
The modDesc version has been increased
A methane vehicle has been added
Landbauer Sand has been added to the interior color choice
If you are looking for an efficient, powerful, and comfortable telehandler, then the MLT 737 is the right choice. With at least 129 hp, a lifting height of 6.88 m, and a lifting capacity of 3.7 t, it is ideal for everyday agricultural transport work. There is a choice of a 149 PS LE variant, the Landbauer standard color choice for individual design and, as always, all configurations for Landbauer Technik products are included in the purchase price and are therefore free of charge.
Landbauer MTL737 (Diesel)
Purchase price: € 99,000
Landbauer MTL737 (+electric)
Purchase price: € 119,000
Landbauer MTL737 (Methane)
Purchase price: € 109,000
Working speed: 40 km/h
All configurations are free
Shop Category: Shop / Vehicles / Telehandlers
Attachments: pallet forks and bucket
Shop Category: Shop / Equipment / Telehandler Tools
Languages: Deutsch, English, Français, Italiano, Spanish, Polski
File size of MOD: 5,39 MB
thanksgiving
GtX-Andy for sharing his LightExtension Script
Changelog 1.1.0.0
+electric version added