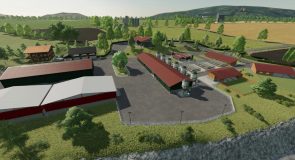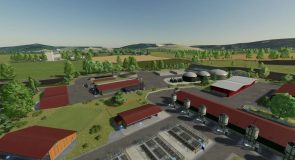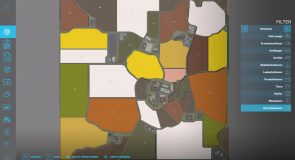 LS 22 MOORGRUND Map V2.0.0.2
Version 2.0.0.2 is with Automatic Gates and Barriers!
The map from the heart of Germany in Thuringia.
With 30 fields from 1ha to 25ha in size.
Map update version 2.0.0.2:
Removed collision at the Raiffeisen earth fruit
Trees at field edges moved
Field 9, 16, 19, 22 leveled the ground
Trees installed along the roads
Map border installed more trees
Greenhouse seed and fertilizer triggers for pallets and trailers
Changed
Increased ground angle of map
Cowshed feed capacity adjusted
Bakery removed (carried over to new production
Kieswerk purchase station for stones installed
Farm purchase station wheat for (chickens) and compost for (greenhouses) inserted
Added Map PDA background image
Production food built in:
Carrot juice (carrots and water) Waste is compost
Sauerkraut (cabbage and water) Waste is compost
Coleslaw (cabbage, water, carrots, onions) Waste is compost
Bread (flour and water)
Onion bread (flour, water and onions)
Cereals (honey, wheat, barley, oats, corn) Waste is compost
Cake (flour, sugar, milk, eggs, oil)
butter (milk)
Cheese (milk)
Chocolate (milk, sugar)
Beer keg (water, hops, barley)
Field tillage production
Seeds (wheat and herbicide)
Seeds (barley and herbicide)
Seeds (oats and herbicide)
Seed sales of Getreide AG and Raiffeisen Getreide AG
Map fruit texture court
Alfalfa texture changed
Replaced fertilizer purchase station with road salt (AUTODRIVE)
Increased BGA silage throughput time and adjusted capacity vehicles
BGA silo alfalfa registered as a fruit
Digestate capacity increased
Slurry storage fermentation residues added and capacity adjusted
Tank trailer (all liquids)
Feed factory:
Hay drying installed (grass and alfalfa)
Silage production (grass and alfalfa)
Production field order:
Compost (compost with fertilizer function)
Fruits added:
Rye ( RYE )
Spelld ( SPELT )
Triticale ( TRITICALE )
Millet ( MILLET )
Alfalfa (ALFALFA)
Alfalfa fresh ( ALFALFA_WINDROW )
Lucerne Hay ( DRYALFALFA_WINDROW )
Carrots ( CARROT )
Onion ( ONION )
Hops ( HOPS )
Cabbage ( CABBAGE )
Harvest vehicles added for:
Onion
carrots
cabbage
Not far from the Wartburg in Eisenach, look out you might see the castle.
With 30 fields of 1ha to 25ha in size, you have a lot to manage on this map.
Two free spaces for your placeable mods are available.
The field shapes are not square or rectangular but still helper friendly.
Forest for the foresters is blocked (the trees should be enough)
Bales are accepted in the cowshed.
Have fun with my map Moorgrund.