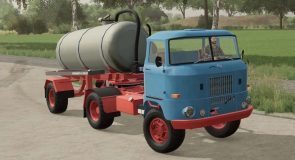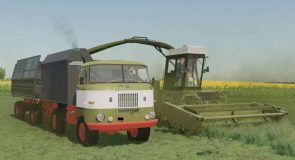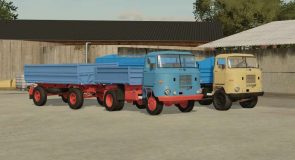 LS 22 LIZARD W50 v1.0.0.0
The W50 is a multi-purpose truck built by the Vehicle Manufacturing Association between 1965 and 1990. A total of 571.789 vehicles of this type were built. Production took place at the Automobilwerke Ludwigsfelde.
The W50 is available as LA/Z all-wheel drive with 60 kph or as LA all-wheel drive with 80 kph as well as DSK body or SHA body. An LA/S tractor unit is also included in the package.
W50
– Price: 24500 €
– W50 LA/Z 125 hp/ 60 kph (37 mph)
– Multi-fruit body with loading volume 5,000l
– Road tires
– animated instruments
W50 LA 125 PS / 80 kph (50 mph)
Price: 5000 $
Multi-fruit body with loading volume 7,000l
Price: 1000 $
Silage structure with 14,500l
Price: 2000
Low pressure tires
Price: 500 $
Choice of colors for cabin, design, body and rims
Price: 100 – 500 $
Underbody protection
Price: 250 $
W50 tractor unit
– Price: 20500 $
– W50 LA / Z 125 PS / 80 kph (50 mph)
– Road tires (HD 8.25-R20)
– Hose connections at the rear
– animated instruments
As an extension:
Low pressure tires (balloon tires 16-R20)
Price: 500 $
Choice of color for frame, cabin, design and rims
Price: 100 – 500 $
Hose connections at the front for modern semi-trailers
Fenders
Price: 250 $