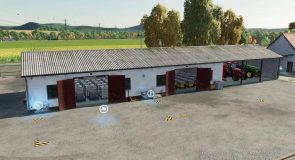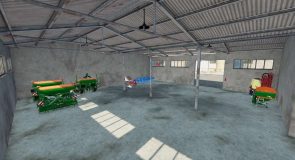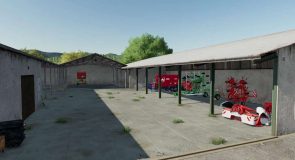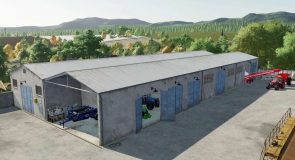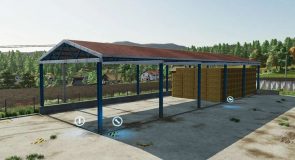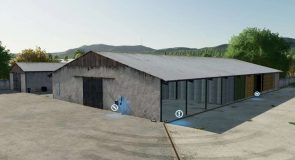 LS 22 Lizard Multipurpose Sheds v1.1.0.0
These shelters have several uses, they can be used for vehicles, loose or packed material storage or even has an option for automatic object storage.
Changelog 1.1.0.0
– Corrected clearing and leveling areas for Vehicle shelters and storages composition.
– Added icicles hanging from roof, visible during winter.
– Attribute "boughtWithFarmland" set to "true" for all placeables so mapers can now set them as preplaced buildings purchasable with farmland and so for any farm in multiplayer.
Entrances are high and wide enough for almost any vehicle and tool.
Lights inside of the sheds are controlled manually, anywhere inside of the building. Lamps outside, above the gates are switched on automatically during night.
4 buildings are included in this pack, 3 of them have object storage feature, which can be switched OFF and used as regular shed instead. Can be switched back ON anytime.
NOTE: storage mode should be switched only if the storage is empty!
Bale shelter:
Automatic bale or pallet storage – can be switched off.
Object capacity: 1200
Price: 20,000 $
Daily upkeep: 10 $
Consumables storage:
Color selectable walls.
Automatic pallet only storage – can be switched off.
Pallet capacity: 200
Price: 128,000 $
Daily upkeep: 40 $
Vehicle shelter and storage
Color selectable gates.
Price: 194,000 $
Daily upkeep: 60 $
Vehicle shelters and storages composition:
Color selectable gates and small details.
Automatic bale or pallet storage – can be switched off.
Object capacity: 2000
Price: 236,000 $
Daily upkeep: 70 $