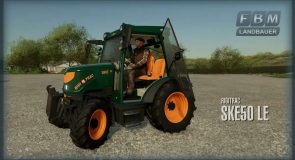 LS 22 Landbauer SKE50 v1.2.0.0
The RigiTrac "SKE 50 LE" is a small electric tractor and an ideal farm tractor, small, maneuverable and nimble. The standard version has an output of 68 hp, there is also an +electric version with 79 hp. All configurations are standard in Landbauer and free of charge.
Changelog 1.2.0.0
The modDesc version has been increased
A script was removed
Door sounds have been added to the door
A collision has been added to the door and rear window
A new speed sticker has been created
The outside driving noise has been reduced somewhat
Snow chains have been added to the tire selection
The new Landbauer standard color "Mocha" has been added to the color selection
The RigiTrac colors (yellow, red, orange and gray) have been added to the color selection
Green and blue colors have been added to the cabin glass selection
An error in cabin glass selection has been corrected/resolved
Various changes/additions to the xml have been made
SKE 50 LE
Purchase price: €49,500
Power: 68 – 79 HP
Maximum speed: 40 km/h
Shop Category: Shop / Vehicles / Compact Tractors
All configurations are free
Precision farming compatible
Languages: German, English, Français, Italiano, Spanish, Polski
Support and further information is only available from FBM at www.forbidden-mods.de
MOD file size: 8.50 MB
thanksgiving
eFarmer for his customVehicleShader.
Changelog 1.0.1.0
BugFix: The visibility of the worklights has been activated
Changelog 1.1.0.0
The modDesc version has been increased
The VehicleShader has been replaced with a new version, which adds rust to wear.
Hints
The cabin glass colors blue and green are only colored on the outside, the glass is clear on the inside.
The rear window uses the "AXIS_CRANE_TOOL" control to open and close.
The cabin door on the left uses the "AXIS_CRANE_TOOL2" control for opening and closing.