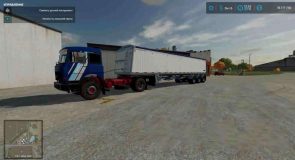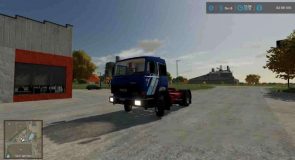 LS 22 Iveco 190 – 38 ITRunner v1.1.0.1
Changelog Ver. 1.1.0.1:
Fixed rear attachment
Minor bugs fixed
Ver. 1.1.0.0:
Added 3-axle ITRunner truck with lift arm;
Solved minor problems;
There are two trucks in the mod:
A tractor unit and a hook truck.
There are no sounds, but you can download the mod to Russian radio and the engine sounds will not be needed.
In the configuration, you can choose a visor and a pattern, you can also change the color of the cab.
Light, devices, pneumatic seats are working.
Iveco 190-38, 4×2 four-wheel drive road truck with 4.2m wheelbase.
Produced from 1981 to 1989.
Fiat-Iveco V8 8280-22 engine with a working volume of 17174 cm³.
Iveco 190-38 price: 78000 €
Price Iveco 190-38 ITRunner: 85000 €
Power: 381 hp
Spoiler color and configuration
Requires: ITRunner Pack ver. 1.1.0.0
Compatibility with all ITRunner containers is not guaranteed.