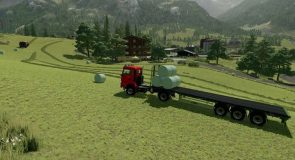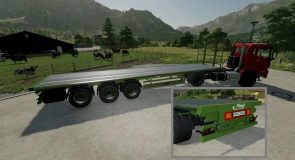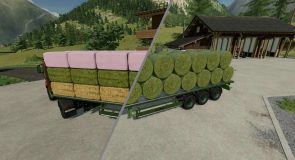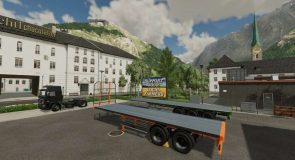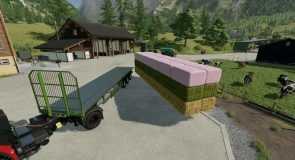 LS 22 Fliegl Flatbed Semitrailer v1.0.2.0
Price: 28.000 $
Category: Bale Loaders
Slots: 9
Changelog:
1.0.2.0:
– Added variant with a smaller load area
– Added Steering axle
– Revised tension belt position
– Revised bale position and capacities
– Other vehicles and equipment now spawn closer to the trailer at the vehicle dealer
– Added autoload working mode (size of bale trigger)
– Number plate position is now dependent on the trailer hitch
– Bale capacity selection removed (is now automatically set) (*)
– Added support for "Selectable Bale Capacity Pack" mod
– Added support for "Universal Autoload" mod (PC/MAC only)
Notes:
Depending on the selected configuration, the trailer needs to be reconfigured once.
1.0.1.0:
– Fixed display of control icons in the info help window
– Fixed warning regarding missing setting in the configuration file fixed
– Fixed collision in front
– Fixed issue where AI traffic did not pass the trailer
– Added support for 120cm x 130cm Hesston bales
Features:
– Autoload for round (125-180cm, 22-34 bales) or square (180-240cm, 16-42 bales) bales.
– Different working modes for bale autoload
– Choice of colours for rims, semitrailer, and flatbed
– Fliegl logo (rear) selectable in white, red, and black
– Rear trailer hitch
– Number plate
– Tyres (Continental, Trelleborg, Michelin, BKT, Vredestein)
– Supports Hesston Bales of the Hesston Balers mod
– Supports "Selectable Bale Capacity Pack" mod
– Supports "Universal Autoload" mod in autoload configuration "standard"(PC/MAC only)
Function:
First, bring the trailer into the working position, the bales can now be collected. After collecting, return the trailer to the transport position.
To unload, select the unloading place via the unloading mode and unload the bales. After unloading, stop the unloading process.
If the bales are unloaded onto the platform, they can then also be moved manually, e.g. by a front loader.
With the working mode, the autoload can be set to either collect the bales from the field or put them onto the platform before to autoload collects them.
Notes:
The bales can be unloaded to the side and to the rear and rotated in all directions. If in working or transport mode the bales are shifted on the platform, changing the mode is sufficient to correct the position.
Autoload only works if this is configured in the garage. For the "Universal Autoload" mod, please select "Standard" as the autoload configuration.
If the trailer is configured with bales in autoload mode, these are then "locked" for further processing. Simply unload the bales onto the trailer, configure them again and the bales can be used again. The same also works if the bales get "stuck" after loading a save game.