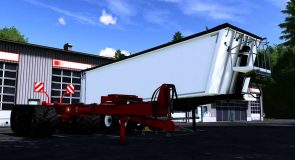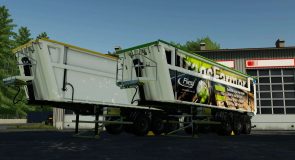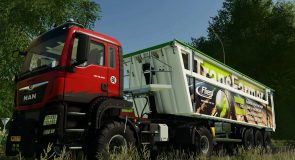 LS 22 Fliegl DHKA390 v1.0.0.0
Here I would like to provide the LS22 community with the Fliegl DHKA390, which is already known from the LS19, and the associated track lifter
What have I done?
– Fliegl DHKA390.
– Swapped wheel hubs.
– License plate screwed on.
– Tire configuration revised (Trelleborg | BKT | Vredestein).
– Rim color choice installed.
– Fill volume changed to 43³.
– Added yellow to the design color choice (tarpaulin).
– Slightly longer discharge time compared to the Ls19.
Both devices run error-free.
(Tested on a completely fresh Erlengrad without any other mods in single player and multiplayer)
2 small things that are already known.
– When using REA, the fully loaded trailer wobbles a bit on the track lifter when driving in the field.
– It can happen with the Tracklifter that the chains don't come completely to the ground. This is usually because the bulldog's ball head is too low.