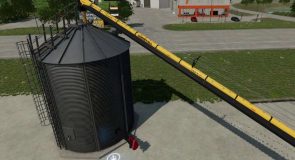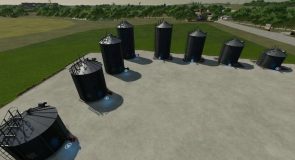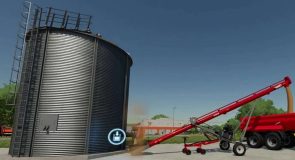 LS 22 Flat Bottom Silo's v1.0.0.1
CHANGELOG v1.0.0.1:
Corrected the capacity of the Farma 250 silo, from 100000 to 250000.
This mod contains Unia Farma silo's. You can find them in the silo and container catagory in the shop. The silo version accepts multiple crops at a time. However the container version accepts only 1 crop at the time (for more realism).
They can only be loaded and unloaded by augers.
The ground texture of the silo is dirt and of the container it is asphalt. This so you can see a difference between them. Ofcourse you can change this with terain editing.
The pack contains (same for silo and container):
– Farma 100 costs 25000, holds 100000L
– Farma 150 costs 30000, holds 150000L
– Farma 200 costs 35000, holds 200000L
– Farma 250 costs 40000, holds 250000L
– Each version cost 10 daily.
You can store all standard silo crops + seeds, fertilizer, pig food, like, TMR, salt and mineral feed, grape, olive, potato, sugar beet, sugar beet cut, sugarcane, manure, woodchips, silage.