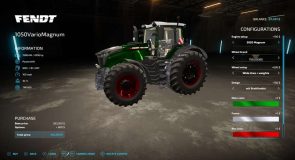 LS 22 Fendt Vario 2050 MAGNUM SIDEQUEST v2.0.2.7
My edit of the Fendt Vario 1050.
It will attach to My version of the SideQuest only.
Also, the Helicopter Tanks from FS19 that I converted.
The Helicopter Tanks fit like a glove the SideQuest not so much, but both are functional: I don't know if the Heli Tanks are available yet. Good luck with that!
– Engine power up to 2050hp.
– Color Choice Body and Frame, Rims too. Black weights.
– Speed 100Mph. (162Kph).
– Truck Airhorn not Beeb-Beeb!
I only upload to Mod Network, so if download it from some other Mod Site which is highly probable and have a comment or question ask here at Mod Network.
Farm On Guys Enjoy!