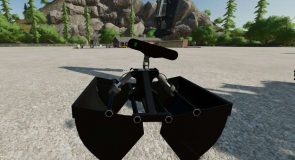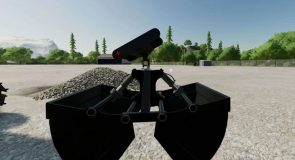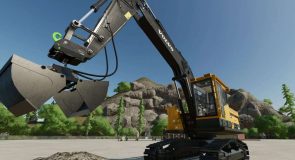 LS 22 Excavator clamshell bucket v1.0.0.0
Please leave a comment if there's something to be improved instead of just a poor rating. Thank you!
Clamshell bucket for the new Volvo excavators.
Compatible with TerraFarm script, however you will need to add the file that i have included inside this download to your existing terrafarm mod (a guide has also been included on how to do this if your unsure) its a simple process i promise.
Please note due to the way a clam shell is loaded with the buckets angled down the game sees the angle of the bucket as being in "discharge mode"…. so to fix this you will find that i have set the buckets to not discharge when FULLY open, the buckets will start to discharge from the moment you open up until the last couple inches of rotation this is to allow you to be able to load the buckets without the game trying to instantly discharge them as your loading, and with that said you must have the buckets fully open for loading else you will find that it will be instantly discharging.
I have chosen not to add full collisions to the buckets at this time and that is to aid the loading process.
if you have any issues then please leave a message here or feel free to send me a message over on discord!
– Price: 6500
– Capacity: variable between 1000L-12000L somewhat realistic and a totally unrealistic bucket capacity can be chosen in the shop for both Volvo excavators. 4 fill capacity's in total
– Direction of attachment is signalled by aligning the green arrow with the green hook of the excavators
This mod requires Platinum Expansion.