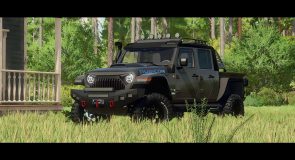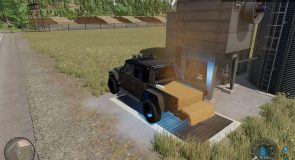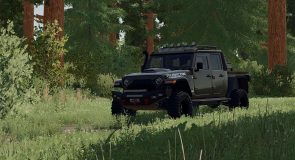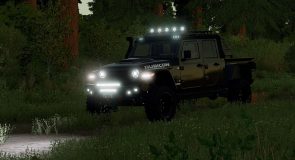 LS 22 EDM Jeep Gladiator Rubicon v1.2.0.0
– Power: 285 / 340 hp;
– Speed: 120/220 km/h;
– Gooseneck hitch;
– Cost: 45000€ Basic Price;
– Color selection;
– Choice of interior color;
– Rim color selection;
– Multiple design configurations;
– Engine configuration;
– License plate configuration;
– Animated, Windows, pedals, Gooseneck hitch, Trunk
– Working lighting equipment;
– Working mirrors;
– Leaves traces;
– Gets dirty and washes;
– Weight configuration;
– Gooseneck hitch Animated (mouse button)
– Wheels rise up and down (mouse button)
–I added the new array of textures created by me (Camouflage wrap, Carbon, Flames, Metallic Paint Flakes)


– Changelog Update V1.2.0.0 .
– Added animated suspension.
– Added Snow plow hitch (compatibility with FS22_HD_SnowPlowPack)
– Added support to carry all types of crops  – Capacity: 2000 L.
– Do not use a winch configuration with tuned bumpers, it has its winch
– This mod will receive further updates!
Is strictly forbidden to edit and publish this mod without my approval!