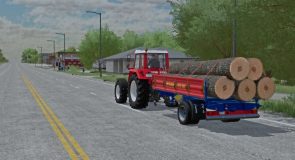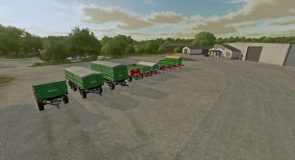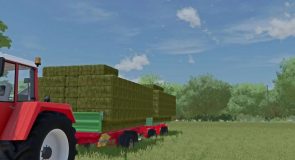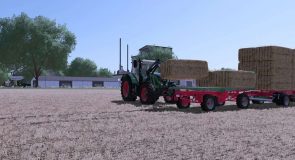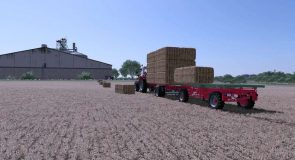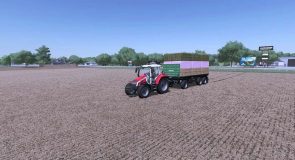 LS 22 Autoload Bale Trailer Pack v1.1.0.0
Autoload Bale Trailer Pack
Changelog Version 1.1.0.0
Autoload mode is now switched by "Toggle work mode" Default setting: PRO.
Unloading by mouse control can now be activated and deactivated at any time by pressing Y, default setting: DISABLED
The following mods are supported:
FS22_SelectableBaleCapacity
FS22_Hesston4900Baler – Brantner DD24073
FS22_HesstonBalers – Brantner DD24073
FS22_LelyAP730 – Welger DK115 + Strautmann SEK802
FS22_Gallignani_5690_S3 – Welger DK115 + Strautmann SEK802
FS22_FahrAPN – Welger DK115 + Strautmann SEK802
FS22_Fortschritt_K454 – Welger DK115 + Strautmann SEK802
Support for "Universal Autoload" mod added (PC only, in "Standard" configuration and for Strautmann SEK802 additionally in "Wood" configuration)
Trailers do not get clean by themselves in the rain anymore
Mod description adapted
*IT IS RECOMMENDED TO SELL ALL TRAILERS OF THE PACK BEFORE THE UPDATE **
Store category: Trailers
The pack consists of three trailers.
The autoload function must be configured. (Thanks to TopAce888 for the approval)
The autoload functions Pro and Easy can be switched – EVERY TIME – by "Toggle work mode". Default setting: PRO.
Unloading via Mouse Control can be activated and deactivated – EVERY TIME – via key Y, default setting: DISABLED.
Easy with wide loading trigger (approx. 4m each side).
Pro, here the bales must be placed on the trailer.
Brantner DD24073 XXL Autoload:
Configuration: Platform, Autoload, Tipper
Price from: 21.650 $
Autoload for round (125cm & 150cm 18 bales, 180cm 14 bales) or square bales (180cm 24 bales, 220cm & 240cm 18 bales, Hesston 180cm 18 bales, Hesston 220cm & 240cm 12 bales)
Color choice for body
Color choice for rims
Choice of tires (Continental, Michelin, BKT (RedCat3D), Vredestein)
Balcony configurable
Rotating beacon configurable
working light configurable
additional sounds when coupling / uncoupling
additional tension belts installed
Welger DK115 Autoload:
Configuration: Platform, Autoload, Tipper
Price from: 11.500 $
Autoload for round (125cm & 150cm 10 bales) or square bales (120cm (HD) 144bales, 180cm 15 bales, 220cm & 240cm 12 bales, Lely AP730 180 bales, Gallignani 96 bales, FahrAPN 162 bales, Fortschritt K454 162 bales)
Choice of colors for chassis
Color choice for superstructure
Color choice for cover
Color choice for straps of cover
Color choice for rims
Choice of tires (Trelleborg, Continental, BKT, Michelin, Nokian, Vredestein)
working light configurable
additional sounds when coupling / uncoupling
Strautmann SEK802 Autoload:
Configuration: Platform, Autoload, Tipper
Price from: 9.000 $
Autoload for round (125cm & 150cm 10 bales) or square bales (120cm (HD) 144bales, 180cm 15 bales, 220cm & 240cm 12 bales, Lely AP730 180 bales, Gallignani 96 bales, FahrAPN 162 bales, Fortschritt K454 162 bales)
Choice of colors for chassis
Color choice for superstructure
Color choice for cover
Color choice for rims
Choice of tires (Trelleborg, BKT, Continental)
Balcony Configurable
Ladder Configurable
Additional configuration without rear tailboard for wood transport, can also be dumped to the rear via "unload here"