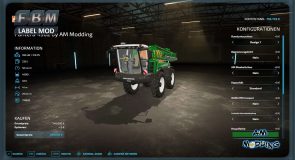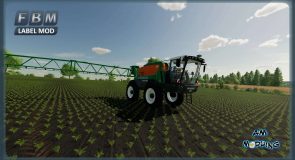 LS 22 Amazone Pantera 4502 v2.0
Amazone Pantera 4502 with matching trailer and adapted to Precision Farming.
Hello, everyone,
We at AM Modding have version 2 of the Amazone Pantera for you today.
We made several adjustments to courseplay, autodrive and precision farming, which made a new release of our Pantera more sensible for us than an update of the old version.
What can our Pantera do in detail that sets it apart from the standard?
– Working speed 25km/h
– Capacity Configuration (Standard 4500L, Extended 5500L)
– Adjusted sound when opening
– Added connectors for connection hoses.
– Added rear work light
– Perimeter lighting on arms (configuration!)
– Selectable steering (four-wheel drive, front, rear)
– Beacon configuration
– Adjustments to Courseplay and Autodrive which also allows it to be refilled at Buy stations and overloaded.
– Adjustments to Precision Farming with Isaria Pro Compact Sensors and Spot Spray (selective weed control)
– Self-adapted trailer for 2000L more filling level
– AM mascot for configuration
– Lighting, Section Shutdown and License Plate… Standard FS22
Otherwise, we wish you a lot of fun with our Pantera and its trailer.
If you previously used the old version of our Pantera, please change the path in the savegame to the following name FS22_AM_AmazonePantera, buy it again or rename the mod to FS22_AM__amazonePantera.zip.