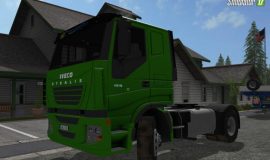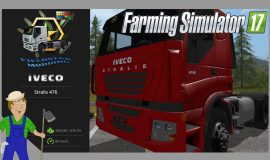 IVECO STRALIS LOWCAB V1.2.3 Mod
Here is our first contribution for the LS17.
version 1.2.3
– flag script removed again, produces errors on the Dedi server> 🙁
– LED lighting installed
This mod is primarily intended as a "test object" for us to come to terms with the modden in the new LS.
"Everything will be easier!" Sorry, but whoever claims it has no plan!
Well, anyway.
Here the Iveco from the LS15 which with restrictions now also log error free is represented in the LS17.
When buying, the color, wheel color and a small selection of wheels can be hit.
Much of it had to fall away unfortunately, like the animated levers and the display displays but at least the cabin light and the working light behind.
At the last minute I got also the reworked "Wunschkennzeichen" script, which now also works.
The sound had to be taken over by the MAN, because there has changed a lot, which I can not do on the fast.
But I can live with it;)
Jo, that's it.
If there are problems, please write a contribution in the support area!
DOWNLOAD
This mod can be offered for download on every page but please only with ORIGINALLINK!
Have fun with it!