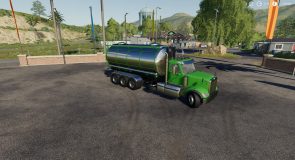 HOOKLIFT LIQUID TANK v1.1.0.0 for FS 19
Hotfix! I made a mistake in the config, see below.
v1.1.0.0 changelog
– corrected filltrigger mistake, it will now work to refill all ingame sprayers.
– added ability to work as a fueltank.
A liquid tank based of the Lizard MKS 8 from Giants.
Features:
– Compatible with the iTRunner trailer as well as all my hooklift trailers and trucks
– Holds just about any liquid in-game
– Works as a filltrigger for your sprayers (fertilizer and herbicide)
– Colour selectable frame and different materials on the tank
– No known log errors
– UDIM textures