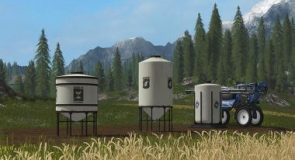 FS19 Refill Tanks v1.3.2.0
PLEASE REMEMBER: I am NOT the original creator of this mod. All I did is edit it to my desire.
With these seed, solid fertilizer, liquid fertilizer, herbicide and lime tanks (which are placeable on the map), refill your different machinery for absolutely free! All you have to pay for is the instalation costs – which cost 100'000.
Changelog v1.3.2.0
– Added languages for Polish & Czech.
– Added daily upkeep for each tank to 25$ per day.