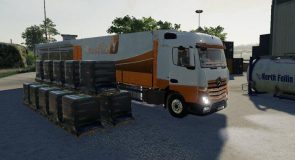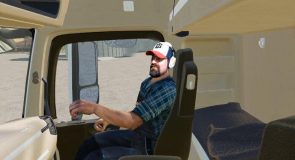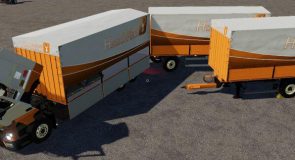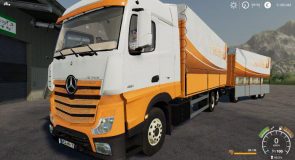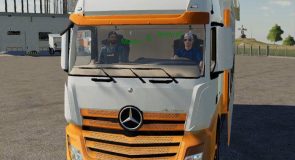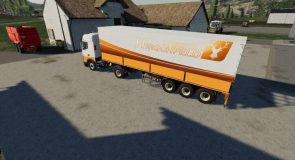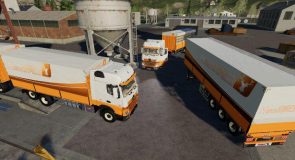 FS19 MB Platform Pack Mario Hirscheld Edition v2.0
Final version. ModPack consisting of Mercedes-Benz ACTROS MP4 tarpaulin body and as a semi-trailer, Kotte tandem trailer, Kröger turntable trailer, Schmitz semi-trailer. All vehicles are animated and have the AutoLoad function
LS19 Platformer Pack Mario Hirschfeld Edition V2
Important: This mod pack may not be changed and may not be offered in other forums without my consent
This ModPackage was created in collaboration with the YouTuber "Mario Hischfeld" and is an exclusive edition. There will be no other editions!
The heart of the package is the MERCEDES-BENZ ACTROS MP4 with tarpaulin structure.
It is fully animated and is reliably controlled by models via "SimpleIC".
Doors, window panes, sun visors, armrests and the like. much more.
The tarpaulin structure is also animated. Open the side walls, open the tarpaulin, remove the bow and the like. other is about SIC and buttons.
The third axis can be raised and lowered with SIC.
The Mercedes has the AutoLoad function. As standard, he can independently load and unload square and round bales, pallets and egg boxes and cotton packages and all bales and pallets from the "Straw Mountains Addon". Also with the forklift or similar. it can be loaded. (Attention: the side walls have a collision)
There are different engine variants, 4 tire sets and free choice of color for the rims.
This included 2 trailers: a KOTTE tandem axle and a KRÖGER turntable trailer. Both have the tarpaulin structure and the AutoLoad function. They are also animated via SIC and buttons.
The MERCEDES-ACTROS MP4 tractor has also been added.
It has 4 tire configurations, free choice of rim colors, different spoiler configurations and there are 3 engine variants.
The animated saddle plate can be moved via SIC and mousse control and it has special truck hydraulic hoses that connect to the semi-trailer. (Normally the hydraulic hoses are on the trailer).
Also new is the SCHMITZ-CARGOBULL semi-trailer with 3 axles, whereby the first and third axles can be moved with SIC. Tire selection and operation of the tarpaulin and side walls, warning signs for dangerous goods loading, cargo area lighting etc.
All trailers now have "RealLights", which is strangely not standard!
The mod "Simple IC" from Modelleicher must be in the mods folder, namely version 0.9.1.7
Now have fun with the pack.