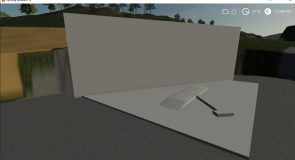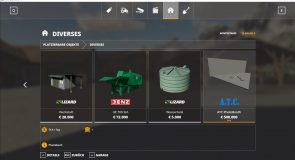 FS19 ATC PhotoBooth v1.0.0.0
Hello everybody,
Although I do not believe that anyone but me can use such a part, but I thought, I'll do it and who finds it useful … beautiful 🙂
This placeable object serves solely and simply to get a standardized orientation of the vehicles as simply as possible so that uniform shop pictures can be shot.
It is cute, but rare and especially designed for easy image editing. There are no textures on it and the only function is the Collis on the ramp and on the bridge, so you do not fall down 🙂
The idea behind it is this:
You drive your mod on the ramp (approximately in the middle of the jetty), get out, walk on the jetty until you run to the wall, turn around, align the camera (center of the vehicle) and then walk along the jetty until the Vehicle is as big as possible in the picture.
Then take screenshot (I always do with Alt-G, so that comes the X-Box Console). You get a PNG, which I then set in Photoshop free and draw the edges a little soft.
As I said, a Red Dot Award will not get the part, but it works already 🙂
Who needs it … nice 🙂
Who does not, it does not load synonymous … and even if: at 72KB file size is a lot broken net 🙂
Logfehler:
none
Releases:
I'll put the thing at your free disposal. You can use it all for your mods, change, etc.