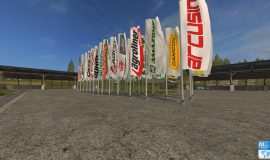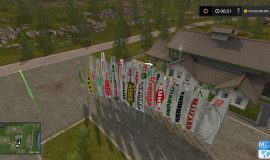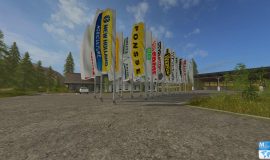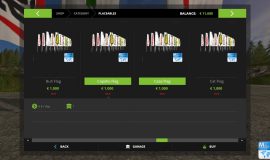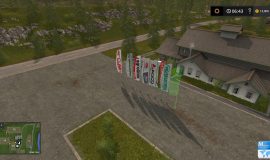 FS17 PLACEABLE FLAGS V1.1 LS2017
Today I present you Placeable Flags for FS17,This contains 36 flags ranging from Case,Deutz,Buh, Challenger and many more!
Very easy to place, and adds a bit more to the map you are playing
Price: 1000
Daily Upkeep/expenses: 5
Change Log:
Version 1.1
Fixed issues with the JCB Flag
I hope you enjoy, If you find any issues please post in the support topic
Original Mod:
Giant's for their original flags
dimre for some original textures which I am sure took him some time to make.
I did send pm to dimre for permission to use his textures over a month ago, with no reply back if this is a issue I will take these textures down and use Giant's originals and what's available, but if granted a big thanks to dimre for allowing this.
robbie for converting the flag image to be shown correctly
Mappers Paradise for the support over the years on projects that have made it through.
A Big thanks to FS-UK for this awesome site
A massive thanks to blobbyfarmer owner of Mappers Paradise for just being there, and supporting everything anyone put's their hands to.
New Placeable Edition:
Benw11
Robbie for allowing me to make this mod, thank you
BlobbyFarmer: for always being there for me and supporting everything I do – thank you
Marxtai- for answering a few of my questions, thank you
WBF- Pictures and Testing thank you
Dorset-for his mod, used it as a guide(thank you thank you)