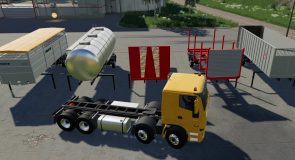 Clixtar Pack v19.1.0.2 FS 2019
ChangeLog v19.1.0.2:
– Autoload for plateau
– CP ready
– New wheels to choose from in the shop
– Rulbars blocked
ChangeLog v19.1.0.1:
– PS display fixed in the shop
– modDesc version raised
After a long time back and forth, we have finally brought him, the Clixtar
IMPORTANT: This is meal conversion!
Please do not expect any world news.
Have been done:
– Model complete pushed through the 3D tool
– LS19 material system installed
– LS19 light system installed
– Animated driver / passenger seats
– Cabin animated
– animated cadre waves
– Pointers, to animation by brake and gear lever
– Wiper animated
– Warning labels on the tank depending on the load
– Color choice including some special paints installed
– Buildings renewed
– Own shop category
– Superstructure: Trough, Tank (All Incl. AdBlue!), Plateau, Wood and Animals (All Incl. Horses)
– Selectable license plate
– 3 engine variants selectable
Known bugs:
– When hanging up the structure versus This easily sinking into the ground. If that happens, please hang up again and again.
– When hanging the structure shifts slightly laterally. There still seems to be a collision that I have not discovered so far.
We have deliberately waived Autoload scripts, since these are not yet Warning-free function!
When building the wood, the two sides can be folded down for a better unloading.
If necessary, further bodies are added.
Have fun with it